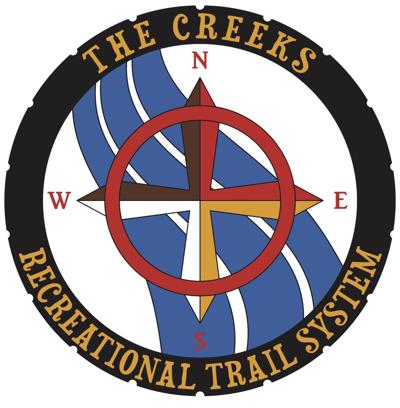 The Creeks Recreational Trail System includes 10.75 miles of hiking and mountain bike trails connecting users to Dauset Trails Nature Center and into Indian Springs State Park. Trail heads may be accessed at 955 Brownlee Road, Jackson, Georgia or off of Lake Clark Road. Dogs are allowed with leash.
The trails were constructed by the City of Jackson and Dauset Trails on lands owned by both, and funded by a $200K Recreational Trails Program Grant from the U.S. Department of Transportation and the Georgia Department of Natural Resources with additional resources provided by the City of Jackson and the Daughtry Foundation.
Phase I of The Creeks consists of 4 sections, each color coded and well-marked by directional signage. Maps of the entire trail are posted at trailhead kiosks off Brownlee and Lake Clark Roads. The Creeks showcase the natural beauty of surrounding virgin forests, lush vegetation home to numerous birds and wildlife species routinely spotted in their diverse habitats along the trail and four creeks. Section I at the beginning of the trailhead off Brownlee Road is home to Town Branch Creek; Section II features The Aboothlacoosa Creek; Section III features Big Sandy Creek; and Section IV is near The Long Branch Creek. Be prepared to enjoy the beauty of nature in an area now available for everyone!
Send us your trails pictures:  info@buttschamber.com